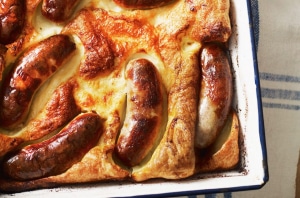 6 Prendergast Butchers Preseli Hill Sausages
1 cup flour
1/2 tsp. salt
2 eggs
1 cup milk
4 tbsp. oil
Cook your sausages in a skillet over medium heat, stirring occasionally until cooked through.
Blend flour, salt, eggs, milk together until very smooth, scraping bowl occasionally (a blender also works well for this).
Heat oven to 220 degrees Celsius.
Measure oil into 8 x 8 x 2 inch square Pyrex pan. Heat for 2 minutes.
Add sausages to oil in bottom of pan (be careful– the oil may spit)
Pour batter into pan and bake for 20-30 minutes. Do not open door.
Serve immediately, with mustard mash and caramelised onion gravy if desired.